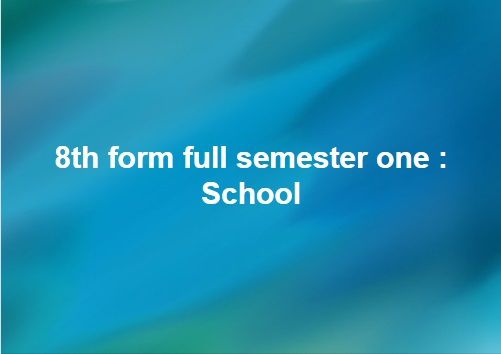 Circle the correct option. (2.5marks)
Prep schools in South Korea are called "Middle Schools". Pupils enter j(on/ at / in) the age of 12 and finish when they are 15. At these schools, the rules are very strict. Wearing a uniform is k(funny / optional / compulsory) for all students without exeptions. Pupils take seven hours a day. They l(are attending/ are going to attend/attend) school from Monday to Friday and have a half day every Saturday. Saturday lessons usually m(to include / will include / include) many extra-curricular activities. The students who love acting, for example, often n (fail/ graduate / perform) plays and others give musical concerts to the rest of the school. A lot of Korean pupils think that their school system helps them be responsible and⑥ (pushy / hopeless/ successful) in the future.
Fill in the blanks with only six words from the list. (3marks)
enthusiastic – exciting – won't - arriving – because – so – want – us - on-
Hi Mandy,
How are you? You're finally coming to Philadelphia! I'm really ……………………………, because we're going to have a great time together. We're going to go sightseeing, so don't forget your camera. We'll also visit some museums and art galleries. My sister can give ……………………….. a tour of the Roden Museum. She is a guide there.
The weather is hot and sunny at this time of the year, ……………………….. we can enjoy the sunshine in Fairmount Park. Would you like to go shopping? We'll visit some of the best shops in Philadelphia. You ………………… get bored at night, either because we can go to a concert, too.
…………………….. the 4th of July we celebrate Independance Day. It's a national celebration in America. I'm glad you'll be here. We're going to watch the parade together. In the evening we can watch the fireworks from Franklin Bridge.
Well, that's all for now. What time is your plane …………………….? Write back and tell me. Bye-bye for now. See you on Wednesday.
Best wishes
Put the words in parentheses in the right tense or form.
Do you ever think about what will schools be like in the future?
Many people think that students will study most regular classes like maths, science and history online. Students (can) …………………………………. study these subjects anywhere using a computer.
What will happen if students (have) ………………………… problems with a subject? They might (connect) …………………………. with a teacher through live video conferencing. Expert teachers from learning centres will (efficient) ……………………………… give students help wherever they live. Students will still take classes at school, too. Schools will be places for learning social skills. Teachers will guide students in learning how to work together and in getting along with each other. They will help students with their group projects both in and out of the classroom.
To be informed of the latest articles, subscribe: