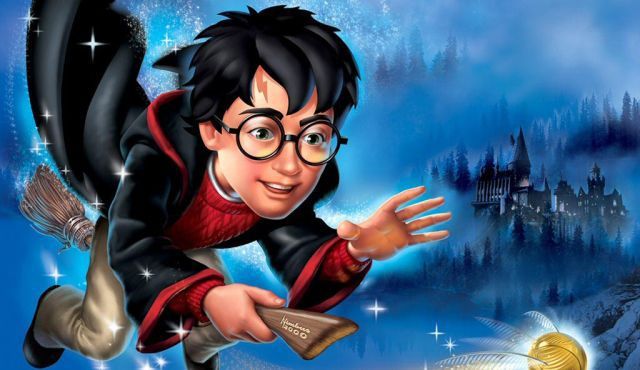 A magical place to learn!
Hogwarts School is a hidden castle at the top of a mountain. The nearby forest, where students are not allowed to go, is full of dangerous beasts.
The building itself is huge. It has many towers which reach into the sky. It also has hundreds of rooms and secret passages. There are 142 staircases, some with disapearing steps and doors that only open if you ask them politely. The most impressive room is the Main Hall. Its enchanted ceiling which reflects the sky, is a beautiful sight on a starry night.
Hogwarts is a boarding school and its students are divided into four houses: Ravenclaw, Hufflepuf, Slytherin and Gryffinder. The entrance to the Gryffindor house is behind a painting of a fat lady in a pink dress. Of course, all the paintings at Hogwarts School move and speak and sometimes visit people in other paintings. Once you whisper the password, the fat lady reveals the entrance to the common room.
This is a cosy round room full of armchairs, in which students meet and do their homework. From there two stairecases lead to the boys and girls dormitories.
Most subjects such as Potions and History of magic are taught in the classrooms. Some lessons may take place outside. For example Broomstrick flying, or maybe a Care of Magical Creatures Lesson, which involves a dragon or a unicorn. There are various after-school activities like quidditch. This team game, which is played on broomsticks and with flying balls, takes place at the quidditch staduim at Hogwarts.
As you can imagine, life in Hogwarts is definitely the perfect setting for Harry Potter's magical adventures.
I- Reading comprehension
1. Tick the correct option. (1mark)
The text is about Hogwarts School's:
A- Facilities and regulations
B- Schedule and exams
C- Sporting events and competitions
2. Answer the following questions. (2marks)
Why aren't Hogwarts' students allowed to go the nearby forest?
………………………………………………………………………………………………………………………………………………
b- What makes the Main Hall the most impressive room?
………………………………………………………………………………………………………………………………………………
These statements are false correct them with details from the text. (2marks)
The students meet and do their assignments in the quidditch staduim.
………………………………………………………………………………………………………………………………………………
There are no extra-curricular activities in Hogwarts School.
………………………………………………………………………………………………………………………………………………
What do the underlined words refer to in the text? (1mark)
Them (paragraph2) ===

è

refers to :…………………………………………………..

Their (paragraph3) ===

è

refers to : ……………………………………………………
To be informed of the latest articles, subscribe: